2.25" Custom USA-made Big Buttons from One Inch Round
---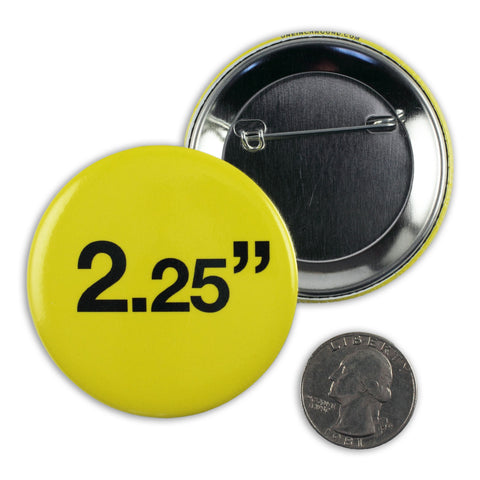 ---
Order 2.25" Buttons
Your Cart
{item.quantity} × {item.title | productTitle}
×

Get started by adding some items to your cart.

Looking for inspiration? Check out our Photo Gallery to see what's possible with One Inch Round!

You upload your artwork AFTER you order. We need an order to attach your artwork to, dig?

Subtotal:
$0.00
Go to Cart →
2.25" Buttons
MINIMUM ORDER:  100 Buttons per design. 
When ordering multiple designs, add this form to your cart once for each unique button.
YES! QTY pricing applies to total number of button size. 
Factory Direct Buttons
USA Made in Portland, Oregon with 65% recycled US Steel.

Printed on 100% recycled paper.

2.25" Buttons feature a extruded steel wire safety pin-back.

Larger size is great for visibility for promotional buttons or campaign buttons.

PET Mylar Coating.
NO Setup Fees!
Prepare your artwork yourself use our Art Guidelines Templates.  
Fast Turnaround Times
Upon final approval of your Art files, all orders are manufactured and ready to ship within the time frames specified below. Need 'em faster? For Rush Service, please call for a quote. Specific delivery dates must be confirmed via telephone. We guarantee on time delivery with Rush Orders or your order is FREE.
How long does Shipping take?
Shipping time or "UPS Time In Transit" varies based on your proximity to Portland. This color coded map shows how many days UPS Ground takes to arrive from Portland, OR.
We also offer UPS Express shipping options during checkout. PLEASE NOTE: Choosing Express Shipping option only speeds up the shipping speed, NOT Production speed. For Rush Service please make arrangements by phone.
Buy in Bulk and Save
Easy Artwork
Once your order is complete, you'll be able to upload your artwork directly from your order page. Be sure to check out the Art Guidelines for instructions and more templates.
---
Reviews from One Inch Round customers (96)
On average, customers rate our 2.25" Buttons 5.0 out of 5.
---
Loading reviews...